Australian Familial Pancreatic Cancer Cohort
It is estimated that 5-10% of all pancreatic cancers are hereditary. The Australian Familial Pancreatic Cancer Cohort (AFPaCC) recruited nearly 200 families with multiple relatives affected by pancreatic cancer. The project has now entered the data analysis phase to further define this unique cohort of Australian families.


Can pancreatic cancer run in families?
The majority of pancreatic cancer cases are considered to be random, or 'sporadic' occurrences. However, having a strong family history of pancreatic cancer is one of the few known risk factors. It is estimated that 5-10% of all cases of pancreatic cancer are hereditary. In some cases, this is attributed to established hereditary cancer syndromes, where a known cancer susceptibility gene is present in the family. However the underlying genetic cause in the majority of families remain unknown, and this is termed Familial Pancreatic Cancer (FPC). FPC is defined by family history and describes kindreds with at least one pair of first-degree relatives affected (i.e. parent-child or sibling relationship). The APGI recently published a summary on Inherited Pancreatic Cancer, which provides more detail around the different heritable aspects of pancreatic cancer. If you are concerned about your family history of pancreatic cancer, talk to your GP about obtaining a referral to your local Family Cancer Clinic.
What is AFPaCC?
AFPaCC is a registry for the relatively small number of families who may be at an increased risk of developing pancreatic cancer. AFPaCC was launched in 2011 with the support of a Cancer Institute NSW Translational Health Services Research Grant and recruited just under 200 families by December 2016, when recruitment ceased. AFPaCC collected detailed family history and environmental data via questionnaires to help to further define risks for unaffected family members, and also identified individuals eligible for a pancreatic cancer screening trial.  AFPaCC also provided the foundation to initiate the first familial pancreatic cancer bioresource in Australia, by collecting bloods samples on high risk individuals undergoing regular surveillance and acquiring blood and/or archival tumour (FFPE) on affected relatives. This valuable resource has been established for genetic investigations into the inherited changes driving familial pancreatic cancer.

AFPaCC Progress
As of December 2016 when recruitment ceased, AFPaCC had enrolled 298 individuals, representing 187 Australian families with reported family history of pancreatic cancer. A breakdown of the different AFPaCC families recruited is shown below: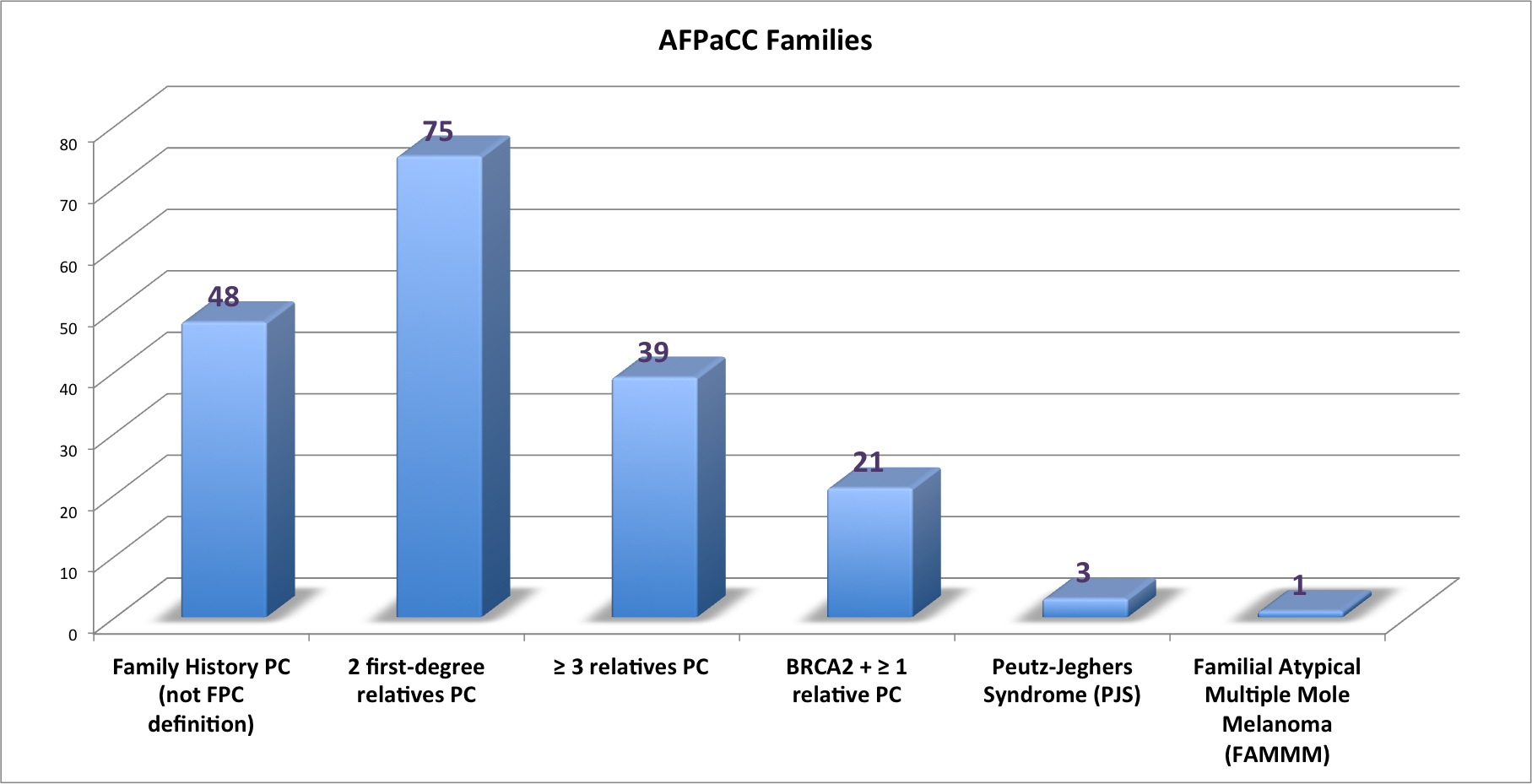 Detailed demographic, risk factor, comorbidity, surveillance and personal and family history of malignancy data points have been collated for each consenting AFPaCC participant.  The pancreatic cancer diagnosis in at least one family member has been confirmed for almost 40% of families. The APGI has also published on Clinical and Pathological Features of Familial Pancreatic Cancer.
Germline and/or archival tissue samples for affected relatives has been sourced for 48 (25%) AFPaCC families, 8 of which have samples on a pair of affected relatives. Blood samples (DNA, serum, plasma) have been collected on nearly 80 high risk unaffected individuals, undergoing regular surveillance. These data and samples can be accessed via the APGI BioResource.