APGI researchers are constantly striving to improve the overall outcome for pancreatic cancer patients. Financial support is essential for our research to continue. All donations are greatly appreciated and there are a number of different ways you can help us to reach our goals.
How to donate to the APGI
All donations made using the directions below directly support APGI pancreatic cancer research at the Garvan Institute of Medical Research. Donations are processed via the Garvan Research Foundation and those AUD$2 and above are tax-deductible.
Donate Online:
Visit the Garvan Supporter Centre and fill in the online form. In Memoriam donations can also be made online. For donations to support The APGI's Pancreatic Cancer Research, In the "Donation Information" section, please select "Cancer" in the drop down menu and specify "Donations to go towards the Australian Pancreatic Cancer Genome Initiative (APGI)" in the comments section as per the image to the right.
Donate by Fax or Mail:
Simply download and complete the APGI Donation Form and please make note if the donation is in honour or memoriam of a loved one. Either fax the form to (02) 9295 8507 or post to:
Garvan Research Foundation
Reply Paid 68593
Darlinghurst NSW 2010
(no stamp required)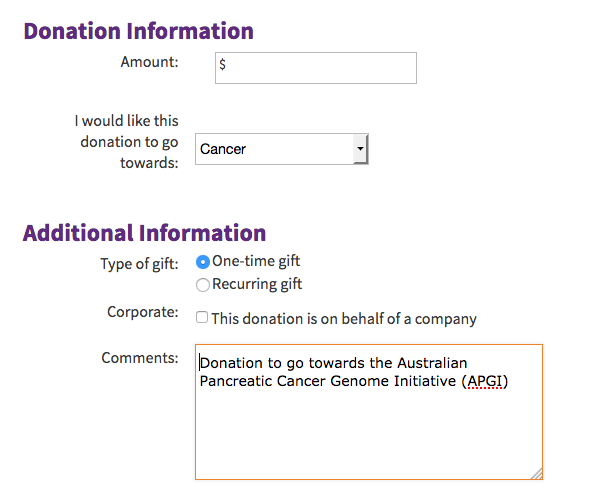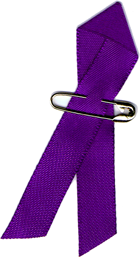 Donate by Phone:
To donate by phone, please call the Garvan Foundation Supporter Line on 1300 73 66 77 (9am to 5pm).
Funeral Donations in lieu of Flowers:
If you would prefer to have donations made to The APGI in lieu of flowers, we suggest using the wording below when issuing the funeral notice for your loved one:
"In lieu of flowers, the [insert name] family has requested that family and friends make donations to the Australian Pancreatic Cancer Genome Initiative (APGI) research at the Garvan Institute, in memory of [insert name of loved-one]. Please visit the website (www.pancreaticcancer.net.au/donate/) to make a donation"
Collection of Personal Information:

Please note that the Garvan Institute collects personal information to process donations. Please be sure to read the Garvan Supporter Centre Policy to further understand what information is collected and what it is used for.