The month of November is dedicated to bringing pancreatic cancer into focus through awareness and keeping hope alive for those living with or touched by this disease. The 2015 World Pancreatic Cancer Day is Friday 13th November.
Purple ribbons
Think purple this November and show your support for the patients and their loved ones affected by this disease.  If you would like to sell purple ribbons please contact the Garvan Research Foundation on (02) 9295 8110 or download an order form here.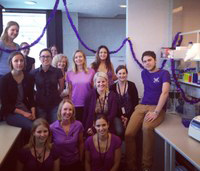 Community events
There are likely to be community groups around Australia hosting all sorts of events during this time to raise much needed awareness and funds for pancreatic cancer research.  We're always very grateful for the support we receive from the public and welcome the opportunity to help promote these wonderful fund raising activities via our social media network.  Please email us if you have an event you would like to share.